As an Automotive Company or Dealer, your goal is to reach more customers, sell cars, maintain a competitive edge, and expand your business.
However, we live in a time when accessibility is becoming increasingly difficult. Your automotive digital marketing strategies should motivate potential car buyers. Your staff members should actively support your brand to assist customers in finding positive reviews about your business online. Digital marketing makes this process easier!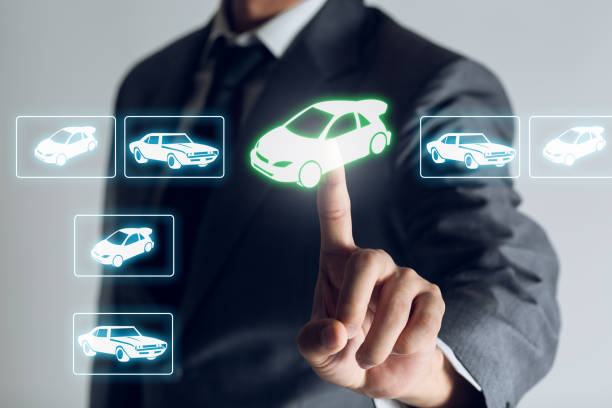 The information customers find about your business online will assist you in developing a personal connection with them. And automotive digital marketing is the solution to this dilemma.
Automotive digital marketing strategies enable you to establish your online presence and help fine-tune your communications so that you can reach the correct audience at the right moment.
With increased competition in the automotive digital marketing trends, it isn't easy to sell more new cars using traditional marketing strategies. So, why not adopt an automotive digital marketing strategy?
The following are the top ten strategies to use digital marketing in your car dealerships.
1. Automotive SEO
Search engine optimization for the automotive industry is the practice of creating a website specialized to your car dealership through optimization, hyperlinks, content modification, and other initiatives pertinent for online shoppers looking to buy a new car or learn more about auto dealerships.
Automotive Search engine optimization tweaks the relevance of linked pages, meta-tags, headers, material, and keywords to help your car dealership site rank higher on the SERP (search engine results page).
SEO is a highly effective and precise online marketing strategy. Unlike other forms of broadcast digital marketing, you may target potential customers online with precise specificity.
The development of fresh and new content is a vital component of any SEO car dealers digital marketing strategy in any business, such as the automotive industry. Ensure that the car dealerships proposal you give contains accurate and complete information about the car shopping or buying process. Properly designed content can help you increase the ranking of your site in search engines.
Identifying which keywords to target in a dealership's digital marketing strategy is essential to online marketing. Keyword research assists in determining the best keywords to target potential car buyers.
Google Keyword Planner, which gives keyword ideas and estimates search traffic based on a record of customer searches, is used by auto dealers and Digital marketing agencies. Aside from knowing which keywords to target, car dealers and SEO digital marketing agencies must understand the labor required for online marketing since high-traffic keywords are more competitive and take longer to go up in the search results. Content that targets the most competitive keywords and related versions of long-tail keywords is an excellent digital marketing plan for auto dealerships.
Car dealers are well informed that car shoppers value high-quality vehicle images. Regardless of the automobile manufacturer or model, high-quality images are essential to every paper catalog. The same digital marketing approach applies to websites; nevertheless, effective image optimization is also required in this situation.
By targeting the keywords used throughout the research and purchasing process, SEO for the automotive industry is designed to boost the probability that your car dealership will be discovered by car buyers who are genuinely in the market for a new or used automobile. Automotive SEO increases your visibility to your target demographic, resulting in more website traffic, sales, and engagements.
2. Auto Industry Website Development & Design
As the digital marketing landscape expands, so do customer behaviors for car dealerships. When a potential consumer visits a car dealership website, they want to acquire as much information about whatever they are looking for as possible. To help potential car buyers, you need good online marketing ideas to create a simple and attractive website, so:
Car buyers may swiftly scroll over your website, increasing traffic. Customers looking for a car dealership will not have the time to review the website thoroughly.
With a well and easier-to-read homepage, you can deliver a better user experience. Customers demand a visually appealing theme as well as prepared visual material.
Customers can readily see the CTA buttons, which is extremely important for a used car dealer's digital marketing that creates more leads and sales.
A car dealership cannot possibly lose consumers due to a slow or congested website. As a result, it is critical to follow a dealership digital marketing plan with the assistance of a digital marketing firm to achieve customer loyalty, site traffic, and, most crucially, generate leads.
The following are crucial characteristics of a successful car dealership website:
Most potential buyers use their mobile devices to browse multiple car dealership websites. Thus your website must perform adequately across all platforms, including mobile devices, PCs, and other analogous devices. If your website is not user-friendly, it will be less likely to appear in the search engines. As a result, look for website design firms specializing in e-commerce and dealership digital marketing services.
Landing Page Optimization
Many car dealerships have the right landing pages but are missing several key elements for increasing internet traffic. For example, incorrect Meta descriptions and titles. You may improve the effectiveness of your landing pages by categorizing them adequately and improving your digital marketing efforts. These sections should feature essential CTA buttons that are visible enough to capture car buyers' attention.
Your website must provide online automobile inquiry forms. If someone is interested in a specific vehicle, they should be able to contact a professional salesperson quickly, and customers can, however, contact a customer care person.
However, filling out a request form and obtaining all possible facts about the car is usually easier. An inquiry form can also be a preventative measure, allowing customers to save time visiting a showroom.
Without effective digital marketing, it may not be easy to progress as a car dealership. As a result, you require a functional website to keep your competition at bay and establish an active line of communication with your potential customers.
3. Automotive Social Media Marketing
Regarding dealership digital marketing, social media is one area that cannot be overlooked. Millions of people, including automobile shoppers, use social media such as Instagram, Facebook, and Pinterest every day, so effectively putting your dealership on these platforms can help you acquire high-quality leads.
Below are some of car dealerships' most effective social media digital marketing strategies.
Everyone loves a good bargain and a good discount, so advertise away. Make promotions and giveaways available on social media platforms to reward your target audience. Customers are more likely to follow your social media channels and social platforms if you hold contests on Social media accounts, and it also keeps customers alert to new offerings and upgrades. Consequently, you'll have more followers and a more engaged consumer base.
Influencers have a significant fan base, authority in their industry, and are well-liked. Many influencers have also launched new YouTube channels devoted to car test drives and reviews. Working with influencers to promote your company can help you gain many new customers.
You should maintain a constant social media presence across all channels. Contrasting tones might be perplexing, and sharing material with the same tone of voice is an effective method to develop your brand. To keep things consistent, offer articles in the same style as your blog entries and web content.
With automotive digital marketing, the importance of social media cannot be overstated. People spend hours on their mobile phones these days using social platforms. So, there's a good possibility you'll meet your next client there on their mobile searches if you work on building a solid social media presence.
You can utilize traditional digital marketing strategies to promote fresh website content. Share a link to a news article on your social media whenever you publish one. This encourages people to click on it and engage with your content.
4. Use Your Email Database Wisely
As auto dealers, you must ensure that your email marketing methods are yielding off. Email may be a powerful tool for connecting with existing and prospective clients throughout the purchasing process. Irrespective of the multiple channels accessible to market to your target audience, email digital marketing should be a key component of your plan for acquiring new customers and reaching out to existing ones.
Here are some pointers for building effective email digital marketing for car dealerships to drive new and repeat auto buyers to your car dealerships.
To construct an email list of receivers likely to give a healthy return on investment, you must improve on the last point (ROI). By employing these natural approaches to expand your email list, you can create a subscription base that will respond to and engage with the information you send to their mailboxes instead of dismissing it as junk.
To avoid wasting your carefully written email content, ensure that all of your emails are correctly optimized for mobile. To accomplish this, verify that your website designing team optimizes all of your email material before it is delivered.
Before distributing the information to your target audience, you should test each email on mobile devices and desktops to eliminate any errors, omissions, or functional problems.
To increase engagement, credibility, and lead nurturing, you should strive to reply to every inquiry as part of your email marketing efforts. Because these emails are generated based on consumer activity, using email marketing automation will expedite the process of connecting and retaining your customers. Digital marketing for car dealerships is a low-cost approach to making money by communicating directly with your customers through email.
5. Online Reviews
Reviews in the automobile business help auto dealers succeed (maintaining an internet presence). Online reviews can have a significant influence on your bottom line. The type of internet image you have impacted whether or not new clients enter your business's premises.
You must not erase or remove negative reviews because this will make your company appear biased. It is also critical to address the issues of dissatisfied or even furious clients. People will notice that the dealership is not just honest but also responsible if it assists those consumers in settling or avoids the circumstances that caused them to be upset. Thus, ensuring client issues are resolved is a critical aspect of the company.
Dealerships should urge their consumers to examine their vehicle purchase, mainly if the buyer appears pleased. Satisfied customers are less likely to evaluate a service than unhappy customers. Asking for online reviews increases the likelihood of obtaining one and gives the customer the impression that the dealership values their viewpoint. Positive feedback from these consumers will demonstrate to the general public that a dealership is the best place to buy their next automobile. Marketing online will help your brand flourish and also help with the buyer's decision-making process.
6. Display Ads
Automotive marketers are aware that potential buyers frequently conduct online research. Rather than visiting numerous dealerships to evaluate brands, customers may now compare businesses, types, and costs on various online websites. Display advertising allows vehicle advertisers to access wider audiences on auto shopping sites and other digital venues.
Display advertisements help keep consumers involved in the car-buying procedure by displaying adverts focused on their interests even if they're not proactively conducting automotive research. Display advertising can generate more significant website traffic and leads.
Automotive display advertisements are not the only area to seek ideas. In reality, automotive digital marketing is most productive when it draws on concepts and industry standards from other sectors and the auto business.
Some Best Practices for Auto Sector Display Ads
Place advertisements on websites that target car buyers.
Monitor and compare indicators such as the number of regular visits, unique visitors, and average time invested by website users.
Make eye-catching advertising with high-quality vehicle photographs and compelling CTAs.
With customers increasingly dispersed across social platforms and screens, car manufacturers must employ focused and data-driven digital marketing tactics to reach their intended audiences. Brands can reach potential customers with paid advertising employing modern segmentation methods and family targeting by mixing first and third-party information more complexly.
7. Content Marketing
You have access to an enormous audience of customers and consumers who need your expertise as an automotive brand. A well-executed content marketing strategy may ensure that your business communicates with your target market from the establishment of the process.
Use a content marketing strategy that consists of blog entries, eBooks, articles, social media posts, and compelling website copy. Inform, teach, and engage customers about automotive areas that are important to them and will assist them in resolving their issues, whether it's a new car acquisition, an aftermarket parts problem, or a service concern.
Adopt the sales technique by creating your company's presence as an expertise that can be relied on to fulfill their ever-increasing desire for useful, factual information. High-quality content will acquire customers' loyalty and confidence, converting them into devoted customers.
Consider the following suggestions while creating types of content:
 A weblog will help you generate traffic, potential leads, commitment, and reputation. Failure to frequently maintain your blog and posts with fascinating and valuable content, on the other hand, will soon push you to the bottom of the heap. Update your blog routine, or you may lose your readership to a rival sharing their story more regularly than you.
Automakers have realized that their customers enjoy social media to spread the word about their vehicles. Engaging and persistent social media updates are vital for keeping your business in people's minds. Social media is all about engagement, interpersonal communication, and trustworthiness. Your following will increase as users enjoy, share, and like your posts if you stay in the discussion and contribute creatively.
Constantly generating and publishing the content on your social media pages will help catapult your automobile brand to the forefront of your clients' minds as an authoritative presence they can rely on. We advocate employing only high-quality, well-crafted content created by professional writers in the automobile business.
8. CRO (Conversion Rate Optimization)
While Conversion rate optimization is new in the market, it's definitely not trivial.
CRO enables people to take action the moment they land on your site. Therefore, car dealerships should speed up; this is because of numerous great website providers in the automotive industry.
Being a car dealership owner, you must couple that with a robust CRO strategy. This will help you market your business online and amp up your game in the industry.
The money invested by car dealerships on their website and its maintenance and the online traffic that is failing to convert those visitors, ultimately fails the whole digital sales funnel. This is when CRO comes into action and turns that marketing cost into revenue. This is done by converting website visitors into leads and ultimately sales on the site.
Car dealerships must recognize its importance on their respective websites. Not only does it complete the digital strategy, but it is also the most substantial and reliable source of traffic for your dealership.
Most conversion rate optimization procedures need only a small set of software to be added to the auto dealership website. This code snippet analyses site traffic behavior to determine which discounts or promotions to present to each user.
Conversion optimization executed correctly will add motivation levels to your website, encouraging your customers to fulfill these benchmarks and dramatically enhancing your automobile lead retention.
9. VR and AR Technologies
Both technologies, Virtual Reality (VR) and Augmented Reality (AR) have advanced quickly in recent years. Recent improvements have been adopted in various fields, with the automotive industry trailing behind. VR/AR in vehicles is now considered a necessary technology rather than an afterthought.
Customarily, the entire end-to-end approach to creating new vehicles takes up to 5 years. VR assists in this process by allowing designers and engineers to build basic prototypes much more quickly. Strategizing is an essential element of the planning process, and the cooperative capability of realistic VR settings provides new methods for project members to engage.
This AR application extends to mending old models and designing new ones. When designers implement new engines, augmented, reality allows them to see if the new elements will integrate into traditional car designs. This minimizes development expenses while also saving time.
VR can help automakers restructure and streamline their production lines, making automotive manufacturing more efficient. Companies can do preliminary productivity evaluations by first establishing a virtual assembly line. AR facilitates upgrading as manufacturers can understand how they will need to alter their present machines to meet the criteria ahead digitally.
10. Retargeting
The automotive business is undergoing a tremendous revolution that will alter the significance of digital marketing.
Any car marketing plan should include remarketing. Because many price comparisons are going on, you don't want to lose fresh leads during the marketing stages of your strategy.
Remarketing ads are one approach to keep your customers interested. This increases the likelihood of your leads remaining in the marketing funnel rather than opting out. It also helps reduce your total bounce rate while capturing more information by using various types of engaging display adverts. This strategy reminds potential buyers that you are available to assist them with the car-buying journey.
Advantages of Automotive Remarketing
Increasing your vehicle visibility through improved search results to receive the best return on your used autos.
Reduce turnover time and increase resale pricing for returned autos or sold cars.
Boost the value of your vehicle inventory by moving stock rapidly and cost-effectively. 
Formulate and maintain a successful car remarketing strategy to reduce the hassle of handling multiple vendors.
You may minimize your rejection rate and boost conversions with remarketing by delivering intriguing display advertisements to visitors on different social media pages. Those people who have previously visited your site remind them you're there and guide them through the procedure. Show them a bargain to entice them to visit the store. It will guarantee that you can link them with your superior sales force.
Conclusion
Digital technology has altered how consumers look for and purchase goods and services. Today, digital marketing for auto dealers is more of a requirement than an alternative for shoppers and sellers.
While the ultimate purchase may be tangible, digital influences the buyer's investigation and decision-making completely. As a result, you must incorporate digital technology and online advertising into your organization to boost client satisfaction, revenues and ranking on search engine results pages.
Auto Leads, Subprime Auto Leads, and Buyback Leads for vehicle inventory!
If you're looking for Auto Leads that convert, Arbor Advertising is your solution. We specialize in generating high-quality customers for Independent & Franchise Dealerships, and we even guarantee it!
Learn about our 50 Car Buyer Guarantee!
Please submit your info below to schedule an appointment.